Before we get started, I'm gonna let you in on a secret: My parents have been married for 35 years (yes, I want to be them when I grow up!) and every single time I go to visit them, I sit down and flip through their wedding album. Not gonna lie, this heirloom looks like it's had lots of love over the past 35+ years, but that's part of the charm! The whole point of a wedding album is to be able to take it out however often you want, and for it to bring back all the feels from your wedding day.
So, why should you invest in a high-quality wedding album? What are the options? How do you even know where to buy one? Don't worry, I'm breaking it all down for you today!
Why are Heirlooms important?
While I'm out there taking photos of your beautiful faces and families on your wedding day, I see all the emotional moments, all the "oh shit" moments, and everything in between. And of course, all my couples are ecstatic when they receive their gallery! But there's seriously nothing like seeing those pictures in person, printed for your enjoyment.  Like I said before, I still pull out my parents wedding album to this day (and NOT just to point out my mom's poofy 80's wedding sleeves and hat, okay??) and I'm eternally grateful they even bought a wedding album in the first place. 

Does a high quality album make a difference?

Short answer, YES! If you invested in a high-quality photographer, you probably want high-quality printed photos. I mean, you can totally get an album printed at somewhere like Snapfish, but chances are you won't be as satisfied as you would if you went with a higher quality option (and come on, you really want to buy what would be a family heirloom from a company that puts photos on blankets?!). You deserve better, and your album deserves to be a piece of art that is proudly displayed in your home. I want your photos to look the exact same (if not better!) in person as they do on your computer screen, so I only work with a bindery that doesn't skimp on the quality. 
WHAT TO LOOK FOR WHEN BUYING AN ALBUM
If you decided to purchase a wedding album, there are a few things you should look for before you buy! One of the most important things is a lifetime guarantee. Remember my parent's Heirloom? I mentioned that after 35 years it started well, falling apart. This was partially due to the love it was given, and partially due to being stored in a damp, wet basement. So what did I do?? I tracked down their original wedding photographer and they replaced the album, free of charge! That is exactly what you should be able to do with any wedding album you purchase. It's gonna have some wear and tear over the years (especially if you have kids, or cats, or both) so you're definitely gonna want the option to fix it up if you ever need to. 
Another thing you should be looking for is the option to customize; anyone can order a wedding album, but having something like your wedding logo or you and your partner's initials can make SUCH a difference. I promise you, it's the little details like those that will get you excited to pick up your wedding album every single time. 
Do you offer wedding Heirlooms?
Hell yeah I do! Given that I have a personal connection to wedding albums, I want my clients to feel the exact same way I do when I open my parents'. I have such a respect for these books and the legacy that they carry, so I think if you own one it should be the absolute best product possible. My bindery is located in Louisville, Kentucky, and I 100% pride myself in their quality. Your album will be printed and bound by hand with high end, archival materials. Layflat Heirlooms come standard with 15 spreads (30 pages), and we can include up to 45 additional spreads so there's always room for more! Your photos are printed directly onto thick, archival paper. With 3 sizes, over 50 cover swatches to choose from, your book is entirely customizable from cover to cover with luxurious linens or authentic Italian leathers. All my couples have been absolutely in love with their albums, and I have full confidence that you will too!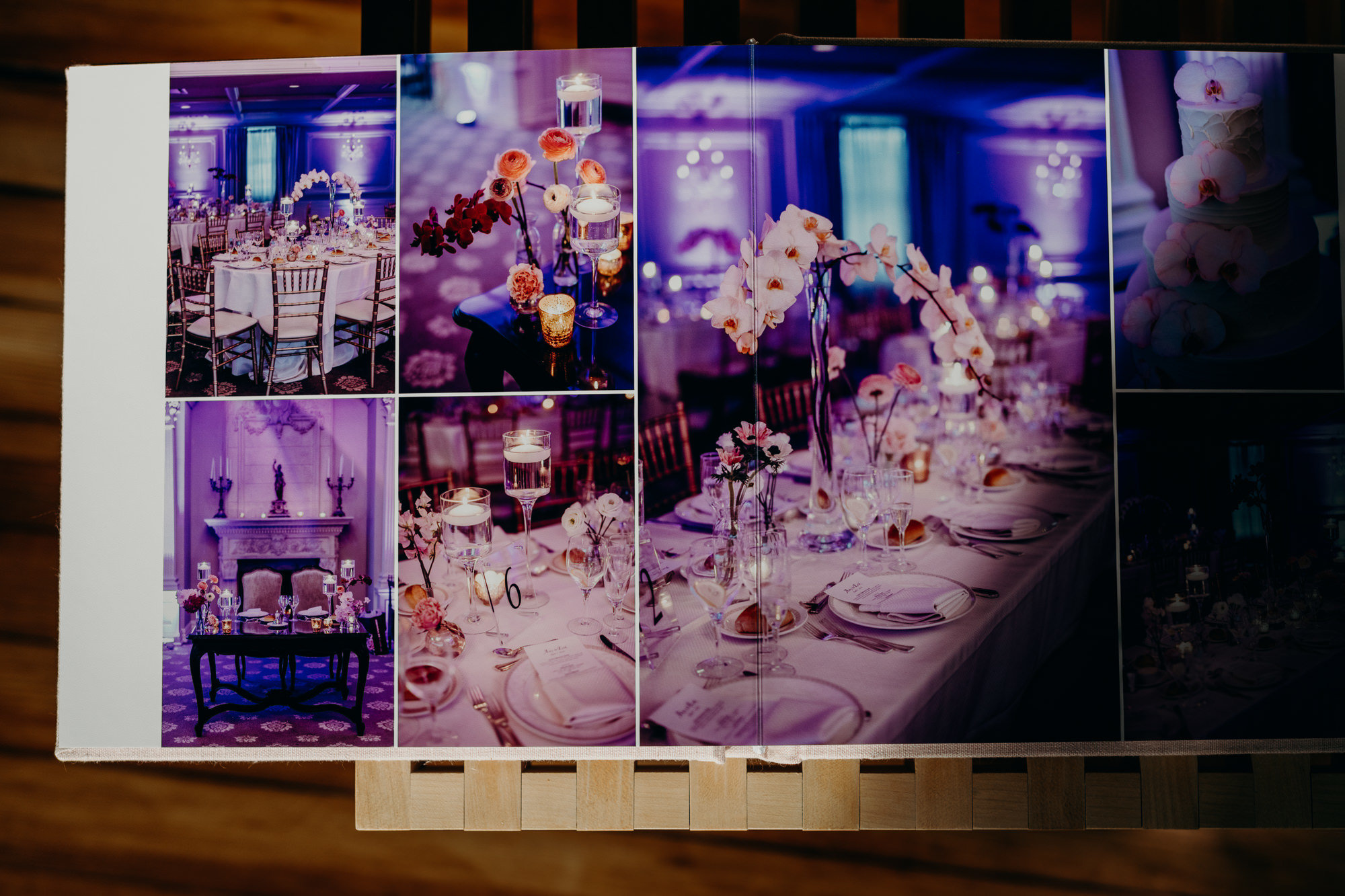 How does the process work?
If you're thinking about ordering a wedding album, you're probably wondering what the process even looks like. Let me tell ya! 
We work hard to make sure that your album is a storybook representation of your wedding day. After I send you your gallery, you'll get to pick out the photos that you cherish the most, the photos you'll want your family to look back on after years of marriage (Or, I can do it for you!). Once you mark your favs, I'll put together your first round design which is the most exciting part!! I'm a perfectionist, and I want you to be absolutely in love with your album, so we can revise the design as many times as you'd like. After the design is finalized, it will be sent off to the bindery where it will be printed and hand-bound. Once this stage is complete, it will be looked over to ensure perfection by not only the bindery, but by myself as well. Once it's all good to go, I'll mail it off its forever home with you!
In conclusion, wherever you decide to purchase a wedding album from, make sure it'll be in it for the long haul. You want those photos to last FOREVER, and not just for a few years! I promise you, it'll be one of the best investments you could make. 
If you're ready to purchase your heirloom album, click here to get the party started. When you pre-order your albums when you book your wedding photography, you'll receive 15% off your album. Let's do this!